Franchise Details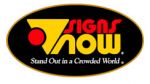 Signs Now Corporation
Franchise DescriptionSigns Now offers an opportunity to join the leaders in a growing $5 Billion Industry. An opportunity working normal business hours 8-5, 5 days per week. Dealing with upper management solving technical problems in a clean working environment. Signs Now provides solutions for all signs & graphic problems. As a Signs Now Franchise owner you will be a valued and respected member of your community working with other community leaders. Signs Now Corporation provides a business system based on 20 years experience in more than 240 centers that encompasses Operations, Employee Recruiting & Training, Marketing, Site Selection and Technological Research and Development. The Signs Now Franchise Opportunity is a business that can eventually be passed on to other Family Members or sold at a future time. Signs Now Offers its Franchisees a wonderful lifestyle. Normal business hours 8-5, 5 days per week. Dealing with upper management solving technical problems. Signs Now provides solutions for all signs & graphic problems.Training & SupportSigns Now provides all Franchisees with a comprehensive 3-week Training Program at its Bradenton, Fl. International Headquarters. followed by 2 weeks of on-site training at the new Franchisee`s center. Site selection and Center design assistance are included with 3rd Party Financing Programs available. Signs Now Franchisees can choose a variety of Marketing, Advertising and promotional materials. Pre Opening Training and On-Going Field Support provide Signs Now Franchisees with programs designed to get their centers "Jump Started". Our Research & Development Department communicates technical changes and new industry ideas through our monthly publications, annual conventions and regional meetings.
Investment Details
Minimum: $125,000
Maximum: $200,000
Required Cash: $55,000
Total Investment Range: $125,000 to $160,000
Number of Franchises: :
Founded: 0
Training: No
Financing: No
Contact Details
Franchise Development
Signs Now Corporation 4900 Manatee Ave. W., Ste. 201 Bradenton, FL United States 34209
www.standoutinacrowdedworld.com
This web site and the information contained herein does not constitute the offer or sale of a franchise. There are certain states that require the registration of a FDD before the franchisor can advertise or offer the franchise in that state. This franchise may not be registered in all registration states and may not offer franchises to residents of those states or to persons wishing to locate a franchise in those states. The offer and sale of a franchise can only be made through the delivery and receipt of a Franchise Disclosure Document (FDD).
BTI Group / Business Team
Business Team, a unit of BTI Group, is the largest Business Brokerage firm in the Western United States specializing in arranging the purchase and sale of privately owned companies
www.business-team.com
Coldwell Banker Mergers & Acquisitions
Coldwell Banker Mergers & Acquisitions brings together buyers and sellers of businesses across the United States, from main street to the mid-market
www.coldwellm-a.com
Lakes Business Group, Inc
Confidential, discreet professional services to privately held business owners.Specialists in 401k/IRA business funding.VR has sold more businesses in the world than anyone.®
https://lakesbusinessgroup.com
Sunbelt Business Brokers of Atlanta
Sunbelt Business Brokers offers professional and reliable services for clients who are interested in buying and selling privately held businesses, mergers & acquisitions in the Atlanta, Georgia areas.
www.sunbeltatlanta.com