Franchise Details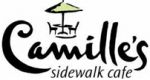 Camille's Sidewalk Cafe
Franchise DescriptionWelcome to the Camille's Sidewalk Cafe franchise opportunity! Camille's Sidewalk Café is a rapidly growing chain of "California-influenced sidewalk cafes" operating in high profile strip center locations, similar in location strategy as Starbucks, as well as upscale Mall Cafe Units (MCU) in premium regional malls. The strip center units are approximately 2,500 square feet seating 85-90 guests and the MCU`s are approximately 250 square feet with 300 square feet of private seating, away from the noise and clutter of the food courts. Camille's Sidewalk Café operates all three day-parts (Breakfast, lunch and dinner) and serves traditional delicatessen sandwiches, gourmet wraps, grilled Italian panini sandwiches, fresh salads and soups, smoothies, gourmet select coffees, cappuccino, espresso, and pastry/bakery items in a warm, inviting, upscale dining environment.Training & SupportWhat Can You Expect From Camille's Franchise System? -Three-Week Training Program(Classroom and On-the-job Training) -Expert Field Support Staff Available 24/7 -Detailed Operations Manual -Real Estate Support and Much, Much More!
Investment Details
Minimum: $214,000
Maximum: $300,000
Required Cash: $80,000
Total Investment Range: $214,000 to $280,000
Number of Franchises:
Founded:
Training: No
Financing: No
Contact Details
Franchise Development
Camille's Sidewalk Cafe 132 King Street, Suite 200 Alexandria, VA United States 22314
www.camillescafe.com
This web site and the information contained herein does not constitute the offer or sale of a franchise. There are certain states that require the registration of a FDD before the franchisor can advertise or offer the franchise in that state. This franchise may not be registered in all registration states and may not offer franchises to residents of those states or to persons wishing to locate a franchise in those states. The offer and sale of a franchise can only be made through the delivery and receipt of a Franchise Disclosure Document (FDD).
Coldwell Banker Mergers & Acquisitions
Coldwell Banker Mergers & Acquisitions brings together buyers and sellers of businesses across the United States, from main street to the mid-market
www.coldwellm-a.com
Lakes Business Group, Inc
Confidential, discreet professional services to privately held business owners.Specialists in 401k/IRA business funding.VR has sold more businesses in the world than anyone.®
https://lakesbusinessgroup.com
Sunbelt Business Brokers of Atlanta
Sunbelt Business Brokers offers professional and reliable services for clients who are interested in buying and selling privately held businesses, mergers & acquisitions in the Atlanta, Georgia areas.
www.sunbeltatlanta.com
BTI Group / Business Team
Business Team, a unit of BTI Group, is the largest Business Brokerage firm in the Western United States specializing in arranging the purchase and sale of privately owned companies
www.business-team.com