Franchise Details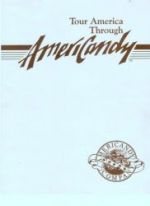 AmeriCandy
AmeriCandy Co, Inc has been in business since 1981 and opened it's first protatype retail/wholesale packing center in 1992 in Louisville, Ky . We have been successful in marketing our AmeriCandy brand of chocolates worldwide . We offer the entrpreneur three (3) opportunites in retail candy stores/kiosks. 1) AmeriCandy Retail /Wholesale Packing Center2) AmeriCandy Retail Modular Kiosk 2) AmeriCandy Retail Interactive Kiosk aka ARIK
Investment Details
Minimum: $75,000
Maximum: $185,000
Required Cash: $100,000
Total Investment Range: $75,000 to $185,000
Number of Franchises:
Founded: 04/04/1981
Training: Yes
Financing: Yes
Contact Details
Omar L. Tatum
AmeriCandy Co, Inc 3618 St. Germaine ct Louisville, Ky 40207
Phone: 502-583-1776
Fax: 502-583-1776
www.americandybar.com
This web site and the information contained herein does not constitute the offer or sale of a franchise. There are certain states that require the registration of a FDD before the franchisor can advertise or offer the franchise in that state. This franchise may not be registered in all registration states and may not offer franchises to residents of those states or to persons wishing to locate a franchise in those states. The offer and sale of a franchise can only be made through the delivery and receipt of a Franchise Disclosure Document (FDD).
Sunbelt Business Brokers of Atlanta
Sunbelt Business Brokers offers professional and reliable services for clients who are interested in buying and selling privately held businesses, mergers & acquisitions in the Atlanta, Georgia areas.
www.sunbeltatlanta.com
Lakes Business Group, Inc
Confidential, discreet professional services to privately held business owners.Specialists in 401k/IRA business funding.VR has sold more businesses in the world than anyone.®
https://lakesbusinessgroup.com
Coldwell Banker Mergers & Acquisitions
Coldwell Banker Mergers & Acquisitions brings together buyers and sellers of businesses across the United States, from main street to the mid-market
www.coldwellm-a.com
BTI Group / Business Team
Business Team, a unit of BTI Group, is the largest Business Brokerage firm in the Western United States specializing in arranging the purchase and sale of privately owned companies
www.business-team.com