Franchise Details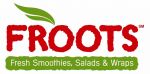 Froots
The difference between Froots and other smoothie concepts is that Froots is actually a quick service restaurant. We are not just a juice bar or a smoothie shop, we are a healthy food destination. Invariably, when we open a Froots in a new market, customers first visit our locations to "check out the new smoothie shop in town". But when they get inside and see wraps with unique flavor profiles like Wasabi Chicken and Kingston Jerk or gourmet salads like The Chinese Chicken, they quickly come to think of Froots as a healthy alternative to traditional fast food fare. Providing our customers with a full menu of healthy offerings is what defines and differentiates the Froots Smoothies brand.
Investment Details
Minimum: $77,000
Maximum: $279,000
Required Cash: $100,000
Total Investment Range: $77,000 to $278,000
Number of Franchises: 41
Founded: 2001
Training: No
Financing: No
Contact Details
Tatiana Molina
4380 Oakes Road, Suite 800, Davie FL 33314Cooper City, FL 33024
Phone: 954-791-4793
Fax: 954-241-6009
www.froots.com
Brochure: CorpBroSingles.pdf
This web site and the information contained herein does not constitute the offer or sale of a franchise. There are certain states that require the registration of a FDD before the franchisor can advertise or offer the franchise in that state. This franchise may not be registered in all registration states and may not offer franchises to residents of those states or to persons wishing to locate a franchise in those states. The offer and sale of a franchise can only be made through the delivery and receipt of a Franchise Disclosure Document (FDD).
Sunbelt Business Brokers of Atlanta
Sunbelt Business Brokers offers professional and reliable services for clients who are interested in buying and selling privately held businesses, mergers & acquisitions in the Atlanta, Georgia areas.
www.sunbeltatlanta.com
Lakes Business Group, Inc
Confidential, discreet professional services to privately held business owners.Specialists in 401k/IRA business funding.VR has sold more businesses in the world than anyone.®
https://lakesbusinessgroup.com
Coldwell Banker Mergers & Acquisitions
Coldwell Banker Mergers & Acquisitions brings together buyers and sellers of businesses across the United States, from main street to the mid-market
www.coldwellm-a.com
BTI Group / Business Team
Business Team, a unit of BTI Group, is the largest Business Brokerage firm in the Western United States specializing in arranging the purchase and sale of privately owned companies
www.business-team.com