Franchise Details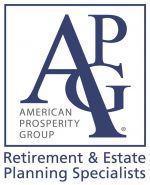 AMERICAN PROSPERITY GROUP (APG)
A Rewarding, Affordable Business to Own

APG serves our clients by maximizing their retiree income today while preserving, protecting and perpetuating that wealth for future generations.

If you are looking for…

A real chance for career independence
A balanced lifestyle that you can truly enjoy
A time-tested business "blueprint" with
NO expensive real estate to buy
NO employees
NO inventory
LOW start-up costs

And a highly rewarding career that helps people and their families in very measurable ways…

And you're professionally minded, self-motivated, people, sales, and relationship-driven, determined to succeed as a business owner, civic-minded and relationship-driven, then you might be an ideal APG franchise owner!

Comprehensive Training: No Previous Industry Experience is Necessary!

As a member of our American Prosperity Group franchise network, you'll be trained in all aspects of our operational procedures and systems: Administrative, office, personnel, workshops, sales and marketing methods, including our computer software and intranet systems. You'll receive specific instruction through our corporate support center, as well as on-the-job training at your location prior to, during and after your office is up and running. The APG Training Manual and Operations Manual are in written form and available online to keep you running smoothly and efficiently. As a valued member of our franchise network, you'll receive continual business advice and unparalleled support.

The Extraordinary Opportunity that Awaits You…

We're looking to award franchises to a select group of qualified, self-motivated and professionally-minded people who have the drive, discipline and determination to own their own business. You might be among them! Does helping people in your community build wealth and future security sound appealing and rewarding to you? If so, we encourage you to investigate our opportunity further. If you are interested in our outstanding franchise opportunity and meet the APG standards, we'd like to talk with you. Previous experience in the financial services field is not required… we will train you, from A to Z.

APG does business ONLY IN THE UNITED STATES, but currently does not do business or sell Franchise Opportunities in North Dakota, South Dakota, New York or Washington State.
Investment Details
Minimum: $76,000
Maximum: $96,000
Required Cash: $100,000
Total Investment Range: $76,000 to $96,000
Number of Franchises: 14
Founded: 11/12/2003
Training: Yes
Financing: No
This web site and the information contained herein does not constitute the offer or sale of a franchise. There are certain states that require the registration of a FDD before the franchisor can advertise or offer the franchise in that state. This franchise may not be registered in all registration states and may not offer franchises to residents of those states or to persons wishing to locate a franchise in those states. The offer and sale of a franchise can only be made through the delivery and receipt of a Franchise Disclosure Document (FDD).
BTI Group / Business Team
Business Team, a unit of BTI Group, is the largest Business Brokerage firm in the Western United States specializing in arranging the purchase and sale of privately owned companies
www.business-team.com
Lakes Business Group, Inc
Confidential, discreet professional services to privately held business owners.Specialists in 401k/IRA business funding.VR has sold more businesses in the world than anyone.®
https://lakesbusinessgroup.com
Sunbelt Business Brokers of Atlanta
Sunbelt Business Brokers offers professional and reliable services for clients who are interested in buying and selling privately held businesses, mergers & acquisitions in the Atlanta, Georgia areas.
www.sunbeltatlanta.com
Coldwell Banker Mergers & Acquisitions
Coldwell Banker Mergers & Acquisitions brings together buyers and sellers of businesses across the United States, from main street to the mid-market
www.coldwellm-a.com